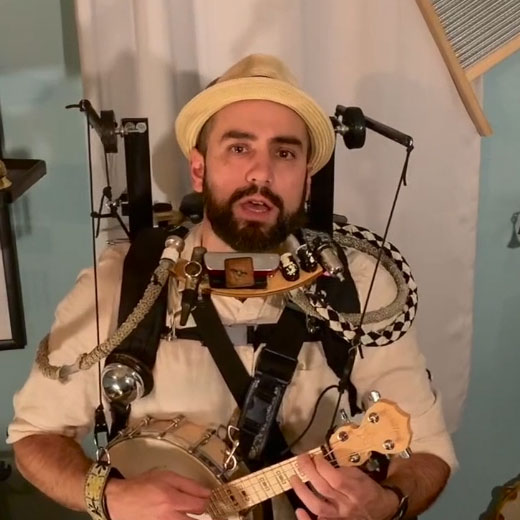 Nick DiSanto
What is it about music that has made it such an important part of your life?
I've always loved doing all kinds of art. When I was young, I was constantly drawing and painting, and later I studied sculpture. I eventually chose music because I had an easier time finding work as a musician than as a visual artist. I would have been happy doing anything creative!
There are many different types of music: jazz, hip-hop, folk, country, pop. Can you describe your genre of music and what makes that genre what it is–like what makes rap, rap and how is it different from other music? Is it the way you use your voice or instrumentation?
I don't stick to any one style of music, but I mostly play old songs from the 1920's and 30's. I especially like old jazz songs, because their rhythms work well with my one-man band contraption. I don't like to use a lot of digital or electronic instruments, so older songs are a natural fit.
Talk about the instruments you incorporate into your songs when you perform? What are your favorites?
My favorite instruments are the drums and the ukulele. I couldn't decide which one I wanted to focus on, so I just play as many as I can at once. I also use harmonicas, a kazoo, and all kinds of bells, whistles, and shakers.
You don't need an instrument to be musical. You can make music using everyday household objects like pots, pans, and rubber bands. What did you use to make music with when you were a kid?
When I was a kid, I used to turn a plastic trash can upside down and play it like a drum. You can also get a great sound out of an empty water cooler jug. Later on, I started playing the washboard, the spoons, and the musical saw. I still get calls from other musicians whenever they want strange percussion sounds in their recordings.