Welcome to Your Learning Neighborhood!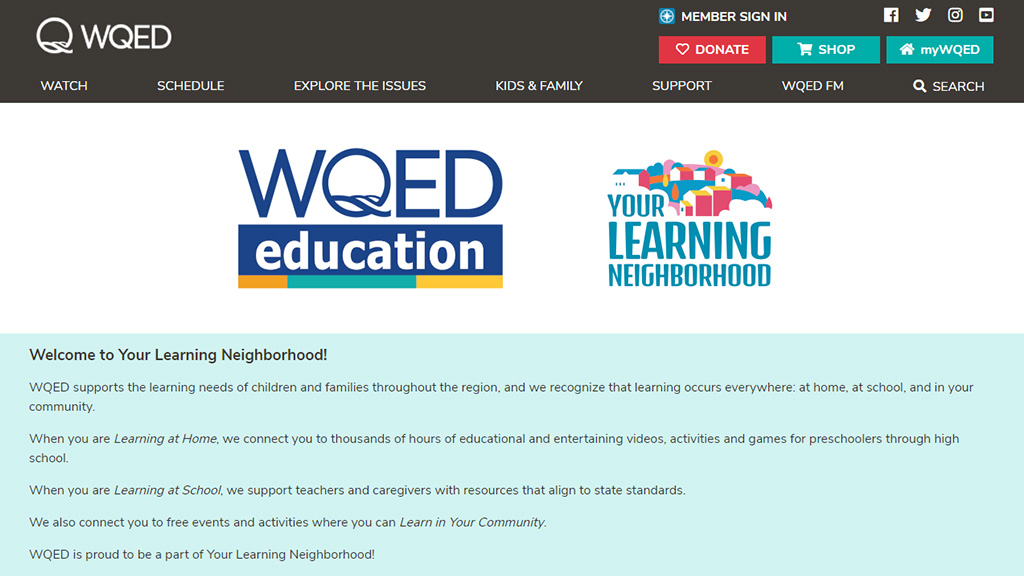 WQED supports the learning needs of children and families throughout the region, and we recognize that learning occurs everywhere: at home, at school, and in your community.
When you are Learning at Home, we connect you to thousands of hours of educational and entertaining videos, activities and games for preschoolers through high school.
When you are Learning at School, we support teachers and caregivers with resources that align to state standards.
We also connect you to free events and activities where you can Learn in Your Community.
WQED is proud to be a part of Your Learning Neighborhood!
Contact: Cathy Cook & Gina Masciol, Education Leads
---
About WQED
Education is the Core of WQED's Mission
WQED's educational programs for children offer free and effective educational tools that can make dramatic differences in how children perform and achieve. Through television programs, multimedia toolkits, and community collaborations, WQED programs ensure that, "anytime is learning time." WQED engages in meaningful partnerships with other schools, organizations, and stakeholders nationally as well as across the region that have a vested interest in ensuring that children receive the highest quality education possible. WQED serves 82% of the regions' children ages 8 and under and 40,000 parents on a monthly basis, just through TV broadcast.
Parents can trust WQED. Adults who grew up with PBS characters as part of their lives pass that love on to their children. WQED's free educational programs allow all children to participate, regardless of socio-economic background. And WQED gives parents the security of knowing that their children are viewing something that simultaneously entertains and educates. Parents can trust that their children aren't being bombarded with commercials designed to encourage consumerism, as WQED is commercial-free. No other media in Pittsburgh provides parents with this level of safety, security and peace of mind.